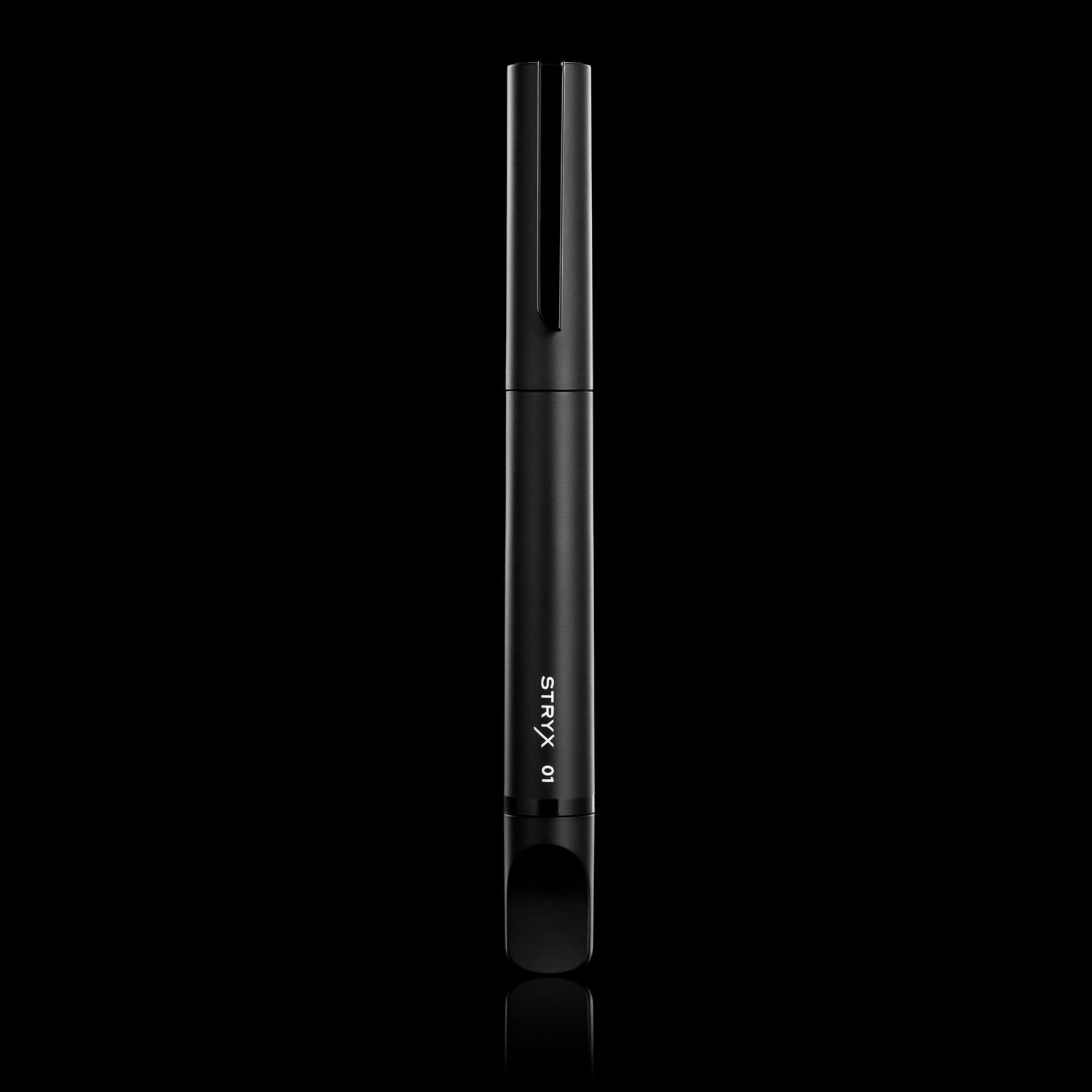 Use Stryx Product 01 Concealer Tool to effectively hide any pimples, redness, acne, razor burn, scars, or other imperfections that every man's face inevitably suffers from.

This specially formulated concealer was developed from inception to blend in naturally and undetectably with your skin. No one — hardly even yourself — will be able to tell that there is anything on your face. You'll simply look handsomer, and your selfies will thank you for it.

Simply uncap, twist, and apply a small amount to subtly conceal the problem area

Live chat us between 9am to 5pm (AEST) if you need help with choosing the right shade

MORE QUESTIONS ABOUT STRYX?
IS THIS PRODUCT FOR ALL SKIN TYPES?
Yes! All Stryx products are formulated with every skin type — and skin colour — in mind. The formulations are specially crafted for men's skin which is oiler, rougher, and thicker than most women's skin. The shades of the products are also almost magically adaptable and by using just a bit more, or a bit less, can be made to look a bit darker or lighter depending on what you need.

HOW DO I KNOW WHICH SHADE IS RIGHT FOR ME?
All shades were designed and formulated to blend into the skin even if they are a tiny bit too light or a tiny bit too dark. They're almost magically adaptable! In short, it's very hard to go wrong given the special formulations.

Stryx products were designed to be used just a very little bit at a time, and then blended in, per your personal preferences. So you can always adjust by adding or removing a little bit as you apply.

If you're unsure, don't hesitate to live chat us or email us at info@mrbrainsandbrawn.com

DO I NEED A BRUSH OR SPONGE TO APPLY?
Nope! Stryx Concealer Tool is specifically formulated to be super easy to apply.Just dab bit over the problem area, and tap or rub in with your fingers. Unlike a lot of other products out there, Stryx needs no brush, sponge, blender, primer, setting spray, or powder to apply!

WILL PEOPLE BE ABLE TO TELL I AM WEARING MAKE-UP?
Stryx formulations were designed to be super subtle and imperceptible on the face. They'll hide what you need to hide without being obvious that you're actually hiding anything at all! That being said, how much product you use comes down to personal preference, and there is no objective right or wrong. So if you'd like to use a bit more and go for a more "obvious" look, by all means do!

WILL STRYX PRODUCTS CLOG PORES?
Both Stryx products were formulated to be light, not to clog pores (especially the Concealer), and to be non-comedogenic, however this has not been clinically tested. It's extremely unlikely that you will react negatively to our products, but, in all honesty, it is always a slight possibility, especially if you have sensitive skin. We rarely hear about this being an issue from our thousands of customers, though, and our products were formulated to be light and not intense.

ARE STRYX PRODUCTS SWEAT PROOF? WILL THEY RUB OFF ON CLOTHING?
These products were especially formulated to stay on even through sweat and a bit of water (for instance, you might note that they take a bit of effort to wash off your hands!), as well as the natural oils that a man's face produce. That being said, a product like this can never truly be 100% sweat-proof or water-proof. At a certain point, you will notice that they begin to fade or rub off.

Most customers report that they do not smear or rub off on clothing, and are quite impressed with how well it stays on all day. But to some extent this will depend on everyone's individual skin, natural oils, as well as material and style of clothing. A turtleneck sweater might pick some up, but a tee should certainly not. Depending on how oily or sweaty your skin gets throughout the day will affect this as well

Every one should have one for emergency
It's true that it's undetectable. I had the biggest pimple on my nose on my birthday. I could not see the pimple at all in all my photos. This concealer is my life saver!
First concealer in my life, I have been using it every day. It hides dark circles very well and looks incredibly natural.
Bought this as a gift for my brother who has been suffering from acne problems for years. It works very well covering his pimples and scars, he loves it!